They say a picture speaks a 1000 words: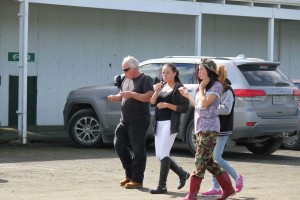 (Click image to enlarge)
We all know who the guy on the left is.
The young girl next to him is Krystal Gurnett.
The girl next to her is Cheyanne Blair Cage-Brown.
The woman with her faced obscured?
That would be Krystal's mother.
The venue for the photo is the Helensville A & P Show Grounds, and the event is a Helensville Pony Club meeting.
(Note: Despite multiple warnings over the past 4 years being sent to these two organisations about Grant Kings sex offender convictions, it appears both organisations are quite happy for a convicted child molester to be mixing with their members, guests, parents, ands children).
According to the GNK "Tip-line", Grant King has been providing "care-giving" services to Krystal & Cheyanne.
Grant King also provides access to his horses for these two girls, and often takes one or both out to dinner and other social events.
Krystal has also reportedly been seen in the community working with Grant King at Trident Cycles (103 Mill Rd, Helensville).
This situation sounds both awfully, awfully familiar, and very, very dangerous for the young women concerned.
As readers of this website will be aware, Grant Kings current partner is Hayley Morgan.
Hayley is currently 28, and was groomed by Grant King from the age of 14 within the local horse riding fraternity, while Grant King was still married to Katherine Denz, Sequoia Kings mother.
In 2004, Grant King was sent to prison for the sexual violation of a minor (an assault shockingly assisted by one of Grant Kings own daughters, in terms of the initial set-up).
Now we discover that Grant King is now grooming not one, but two vulnerable young women – again, from within the horse riding fraternity, and with the apparent blissful ignorance of at least one of the parents.
The abject failure of the duty of care being shown by the Helensville A & P Showgrounds & The Helensville Pony Club also now beggars belief.
While I am thankful that Grant King is now in prison, and can't get access to women young enough to be his grandchildren, I, and it appears a number of other locals have, and are now raising concerns regarding these matters.
I am hopeful that the parents of these young women read this post.
Be angry with me if you like for publishing this post, but for goodness sake – start protecting your children from Helensvilles' most infamous predator – Grant Norman King.
If it takes you being angry with me in order for you to take some action to protect your kids – then so be it.
http://offenders.sst.org.nz/?archive_template=search.php&s=grant+king&post_type=offenders
Grant King – Convicted Sex Offender.
Grant King Offender Timeline 1982 – present-day
Grant King Media Articles Library Summary
Grant King High Court Public Examination 2014
NZ Gazette Notice of Grant King Public Examination
No Cowboys Rating for Trident Cycles
No Cowboys Rating for Tern Marine Ltd