I have been casting my eyes on the candidates for the upcoming 2022 Tauranga By-Election.
I note that a Mr Andrew Hollis has been named as the candidate for the New Nation Party to contest the seat.
I then came across this Facebook post, in which George Good. aka Grant Norman King features in the commentary, ostensibly bragging about owning a specific type of car.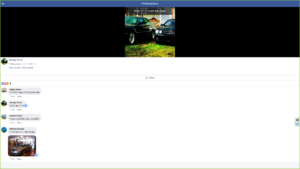 (Click image to expand)
You will note that Mr Andrew Hollis is included in the message replies on the "George Goods" Facebook page.
This revelation again raises the question: what involvement (if any) does "George Good" aka Grant Norman King have with the New Nation Party, and is Mr Hollis, the New Nation Party Candidate for the Tauranga By-Election, aware of the very dodgy company he is keeping in George Good?
Just what is going on here?
The plot does seem to be thickening at an alarming rate.
These are the scheduled meetings being held by Mr Hollis as part of his Tauranga By-Election campaign: could I encourage any GNKASS Tauranga-based members to attend one of these meetings, and assist with bringing Mr Hollis up to date on this issue.
I might even take a drive down myself.
Tuesday 10 May
7.30pm – 9.30pm
Tauranga Citizens Club
Thirteenth Avenue
Wednesday 18 May
7.30pm – 9.30pm
Bethlehem Hall
239 Tamatea Arikinui Dr
Wednesday 25 May
7.30pm – 9.30pm
Mt Maunganui Rugby Club
Miro Street
Wednesday 1 June
7.30pm – 9.30pm
Bethlehem Hall
239 Tamatea Arikinui Dr
Wednesday 8 June
7.30pm – 9.30pm
Matua Hall
110 Levers Road
Tuesday 14 June
7.30pm – 9.30pm
Tauranga Citizens Club
Thirteenth Avenue
http://www.nzherald.co.nz/business/news/article.cfm?c_id=3&objectid=11645300
Grant King Offender Timeline 1982 – present-day
Grant King Media Articles Library Summary
NZ Gazette Notice of Grant King Public Examination
 Jail Sentence Judgment Dec 2015