Grant King Offender Timeline 1982 – present-day
Grant King Media Articles Library Summary
An eagle-eyed member of the "GNKASS Network" has discovered that Grant King is illegally operating a "Trade Me" account under the user name "Cycles2U", and under the false name of "Micheal Wei".
And Trade Me, despite being given the evidence that an undischarged, currently opposed bankrupt with a 30-year fraud history clocking up over 70 fraud victims and nearly $3 million dollars in fraud, who was permanently banned from "Trade Me" in 2011, and is now illegally trading over $52,000 worth of warranty-worthless product on the "Trade Me" website, risking still more fraud victims, chooses a "do nothing" response.
First things first:
Here is a copy of Grant Kings "Trident Cycles" business card:
Here is a screen capture of one of Grant Kings products being sold on "Trade Me":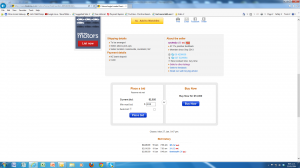 (Click on image to enlarge)
Here is the "Trade Me" link to the same ad:
http://www.trademe.co.nz/motors/horse-floats/auction-685120239.htm
97.1% positive feedback
Member since Sep 2013
09 4208836
027 5228664
Best contact time: Any time
Compare the phone numbers: they match perfectly.
Here is the "Trade Me" profile of "Cycles2u:
http://www.trademe.co.nz/Members/Profile.aspx?member=4768837
Newsflash for "Trade Me": King's name ain't Michael, and King's not Chinese!
Now to the correspondence to Trade Me, and their response to me:
Email sent to "Trade Me" Investigations by me, with attachment of Trident Cycle Business card:
Greetings,
Trade Me has previously banned Grant Norman King from Trade Me for dishonest and unethical practice.
I note that Grant King is back trading on Trade me selling a Horse float under the name cycles2u:
http://www.trademe.co.nz/motors/horse-floats/auction-682809120.htm
If you read the attachment to this email, and compare the phone numbers on the business card, with the phone numbers on the Trade Me ad, it will quickly become clear that Grant King is illegally conducting business on Trade Me, whilst being banned from Trade me.
When you check "sellers other listings" under cycles2u, you will note that Grant King is illegally selling bikes under the banner of Trident Cycles using the user name cycles2u, and the name of "Michael Wei" all whilst an undischarged bankrupt, and without the permission of the Official Assignee to trade.
This email has been copied to the Official Assignee at the Ministry of Business, Innovation, and Enterprise.
Please advise as to what Trade me's response to this advisory will be?
I also flagged each product listed under "Cycles2u" via filing 64 "Report this listing" reports – I figured that Trade Me would realise the seriousness of the matter at hand – however, this was not to be:
Email response to me from "Trade Me" Investigation representative:
Hi Steve,
Thanks for getting in touch with your concerns through the following listing:
2 Horse Angle Loader Float – 682809120
If we're able to link this membership to Mr King's previous ones, we'll take the necessary action. Otherwise, we'll wait for the Official Assignee to get in touch with any concerns.
We appreciate you bringing this issue to our attention.
Cheers,
(NB: I actually advised them of all 64 of the illegal "Cycles2u" listings, but whose counting?)
This is an unacceptable response from "Trade Me": we have just gift-wrapped 30-plus year criminal fraudster Grant King for them, and provided them with evidence of yet another significant "Trade Me" commercial fraud, and their response is "Yeah, Nah".
When I queried "Trade Me" as to why they were not being more pro-active in this matter, the Customer Service staff member replied "Oh, because everyone goes home at 5 pm, and it's 3 minutes past 5".
"Trade Me" markets itself as a trusted place to do business, yet their laissez-faire attitude pretty much easily exposes every single one of their 1 million-plus subscribers to fraud – even when they are given the heads-up, "Trade Me's" response, rather than acting swiftly to protect their subscribers, is to wait for someone else to do something about it, and bugger their subscribers.
It was through "Trade Me" that our initial contact with Grant King began, and we all know how THAT turned out – again, Grant King was hiding his real identity, just as he is now, illegally trading, just as he is now, and in the process created a victim, just as he will continue to do now, unless "Trade Me" wake up to what Grant King is actually doing on their website, and take some meaningful action around consumer protection and safe commercial trading practices.
As I said, absolutely unacceptable.
UPDATE 22/1/14:
The "Cycles2u" membership of Grant King posing as 'Michael Wei" has been suspended pending further investigation, and all 64 products totalling $52,000 have now been removed from Trade Me.
Gotcha again, GNK: chalk up yet ANOTHER victory for the "GNKASS" Network 🙂